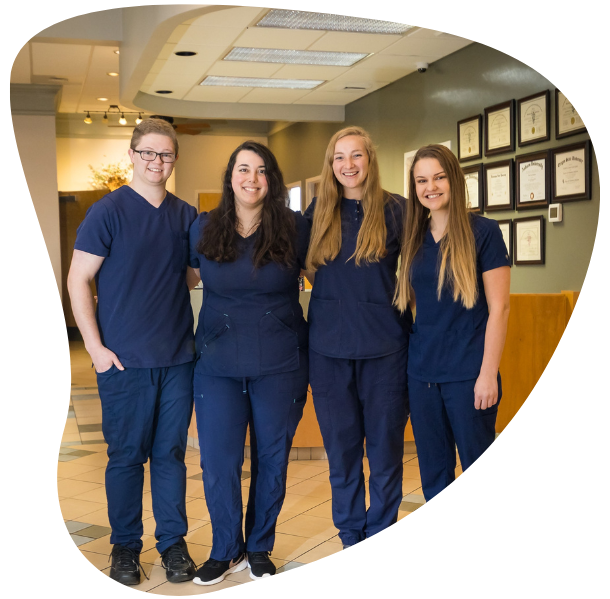 Careers
Welcome to Animal Health Care Center's career page! Our clinic's mission statement is to provide high quality medicine to our patients while fostering trusting and lasting relationships with our clients and coworkers.
At Animal Health Care Center, we work as a team in a fast paced, fun environment to care for our patients and, in turn, care for our clients. The satisfaction of knowing we are making a difference in the lives of our patients and their families is what fuels our success.
We foster a mentoring environment, and all staff members are encouraged and assisted to further their knowledge in their career. We are proud to offer competitive pay, benefits, and opportunity for advancement.
I encourage you to browse our website, visit us on Facebook, and stop by our campus to learn more about what it means to be part of the Animal Health Care Center family. Thank you for your interest in our company!
Customer Service Representative
Members of our CSR team are the first and last interaction our clients receive from our practice. They possess exceptional communication skills, a friendly disposition, the ability to multi-task, and a willingness to handle stressful situations with confidence. Responsibilities include ensuring efficient flow of appointments, answering phones, texts, and emails, booking appointments, reminder services, and payments. Apply below:
https://www.ondemandassessment.com/link/index/JB-DIE9XKWE3?u=1098939
Pet Care Assistant
Provide exceptional, compassionate care to boarded patients by ensuring facilities are clean, comfortable, and safe. Dog walking, feeding, and bathing dogs and cats, basic animal restraint, and assisting doctors and technicians when needed. Apply below:
https://www.ondemandassessment.com/link/index/JB-AKNZQE7V8?u=1098939
As a new employee at Animal Health Care Center, I feel appreciated. Dr. Cruzen understands the value of hard work and builds relationships with all of her employees. I enjoy working at AHCC because I learn something new every day. I am a part of an awesome team that strives to provide the best care for all of our patients.
I started at AHCC at the reception desk and once I realized my passion for veterinary medicine, I began classes to obtain my technician degree. The doctors, technicians, and receptionists were all very supportive and helped me to learn as much as I could. Due to my significant other's job, we were relocated to Tennessee. I could not find another that had supportive staff, great clients, or offered top of the line medicine like AHCC. We were blessed to be able to move back to Alabama and I was accepted back to AHCC as a veterinary technician. Our staff is very close and we like to have fun while maintaining a professional establishment. We work hard to make long lasting relationships with our clients and to offer the best diagnostics and medicine. I personally have a few clients who ask for me by name and call to speak with me to keep updated on their pet. This clinic makes me feel like I make a difference and I would not trade that for anything. AHCC truly is a "unicorn clinic".
Animal Health Care Center is a clinic that cares for its employees and the patients they treat. They foster a family dynamic with their employees that leads to personal and professional growth. Coworkers are teammates that want to see you succeed and are willing to help to become a better practice for our patients. They strive to provide the best medicine and care for their patients while fostering meaningful and lasting relationship with both coworkers and clients. Hard work is recognized and rewarded. If a teammate struggles professionally or personally, they have a family behind them to help support and lift them up. I love working at Animal Health Care Center because it's my family and we all want what is best for our patients.